AG-Immune Supplement Facts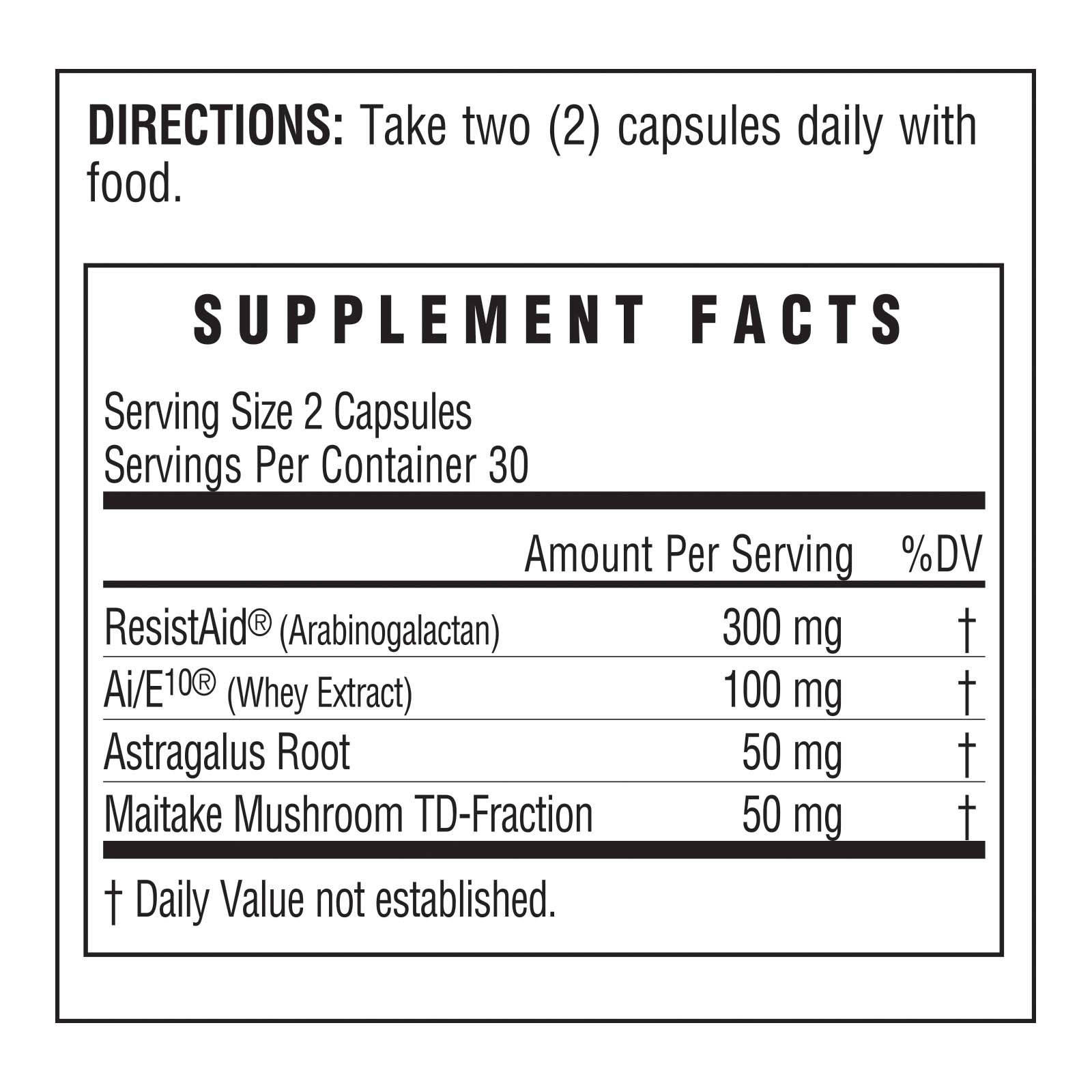 Taken daily, the advanced nutrients in AG Immune help protect your immune health through all the seasons of the year.*
Super Ai/E10® (antigen-infused whey extract) – Helps modulate the body's natural immune response and supports immune cell communication.*
ResistAid® (Arabinogalactan) – Provides complex polysaccharides to help stimulate the most powerful types of immune cells.*
Astragalus – Helps activate the body's natural immune response. Boosts vitality and eases the effects of stress to support recovery after workouts.*
Maitake Mushroom – Helps fortify the body's defenses by stimulating immune function and activating macrophages, the "heavy duty" cells of the immune system. Also helps promote recovery after workouts.*
Super Ai/E10®
Ai/E10® is a United States of America and Canadian registered trademark of Health Technology Resources, Inc.
Super Ai/E10 Supplement Facts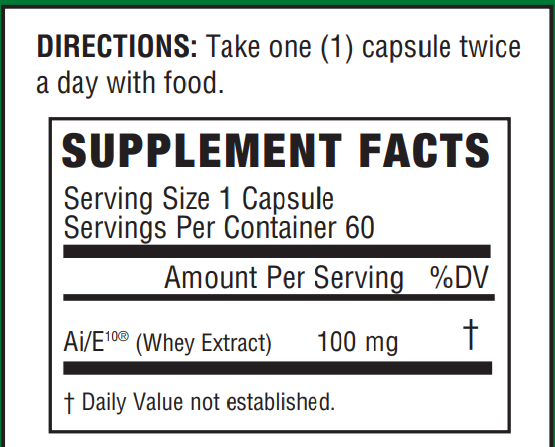 What is Ai/E10?
Not a vitamin
Not a mineral
Not an herb
Not an amino acid
Not a probiotic
Not colostrum
You won't find Ai/E10 in the food you eat or on store shelves. Yet Ai/E10 is the Ultimate Nutrient you should take to support your immune system. Ai/E10 is antigen-infused whey extract, a unique nutrient that supports the body's natural ability to modulate immune response for optimal wellbeing.* 
What is the source of Ai/E10?
We derive this unique nutrient from a private dairy herd in the Midwest. The cows are raised without antibiotics, lovingly cared for, and carefully monitored. Infusing the cows' udders with a propriety blend of antigens begins the process of creating the Ultimate Nutrient for immune health.* 
How does Ai/E10 work?
Ai/E10 supports an intelligent immune response, not just a boost to the immune system like vitamin C provides.*
"The immune system modulator Ai/E10, found in AG Immune and Super Ai/E10, offers immune cell communication benefits that have not yet been demonstrated by any other substance," says David Bergsma, co-developer of Ai/E10.* 
What is Ai/E10?
Not a vitamin
Not a mineral
Not an herb
Not an amino acid
Not a probiotic
Not colostrum
You won't find Ai/E10 in the food you eat or on store shelves. Yet Ai/E10 is the Ultimate Nutrient you should take to support your immune system. Ai/E10 is antigen-infused whey extract, a unique nutrient that supports the body's natural ability to modulate immune response for optimal wellbeing.*Read More
Healthy days start with a full spectrum of vitamins, minerals,phytonutrients, and targeted support for optimal immune health.*